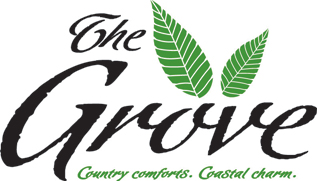 Try it before you buy it!
Experience the Active 55+ Alabama Lifestyle for 3 days and 2 nights!
Your invited to visit our premiere community The Grove and stay for three days and two nights for only $149.00. You'll be able to see the community first hand, visit the model homes, meet our residents and take part in all our activities.
You can play shuffleboard, pickleball, horseshoes, bocci ball, tennis or basketball. In the clubhouse you can join in a card game, billiards, or enjoy some quite time in the library/computer room. You can also enjoy use the seasonal heated pool. There is also a new gym and sauna available to you.
We will show you around, answer your questions, treat you to lunch at a fine area restaurant, and give you an insider's perspective of living at The Grove. You'll also have a chance to familiarize yourself with the surroundings, and explore the local shopping, dining and recreational facilities.
If you purchase a home at The Grove. We'll refund your $149.00 and your transportation costs (airfare or mileage up to $500.00). Refund applies to purchase of a new home only. For immediate information or to schedule a visit, call (877) 971-1033 and ask for Jessica Vellegas
The Grove Guesthouse Request
*
required field
Open Crafts on the 1st, 2nd and 4th Mondays at 1:00 p.m.
Crafters, do you have projects that you just don't seem to have time to work on? This is a dedicated time to work on any type of project. Having a dedicated craft project time helps to get that project done. Bring your project and spend time working on it while meeting other crafters.
Craft Sit In 6:00 p.m every Wednesday.
Terry Douglas is hosting a Craft Sit-In. This is another opportunity for crafters to get together and work on their individual projects. Meeting will take place in the arts and craft room.
Exercise Classes Every Monday, Wednesday and Friday
Join Ronda at 8:00 AM for a walking video and 12-minute black dress work out. Then at 9:00 is chair exercise which is more difficult than it sounds. There are 3 different work out video's that focus on different exercise for seniors. Come and give it a try.
Aerobics with Maria every Tuesday and Thursday
Join Maria for a low impact aerobic workout at 9:00 on Tuesdays and Thursdays. It a great way to limber up and a good cardio work out in the auditorium.
Activities in our area:
The Wharf in Orange Beach is also scheduling a variety of events. For the full calendar of events go to alwharf.com.
They are scheduling a variety of winter events including carriage rides and the ice-skating rink.
OWA performances are back. Legends is now performing as well as Brandon Styles. They are also scheduling other events. To learn more, go to visitowa.com
Alabama Gulf Coast Music Hall is open with performances. Go to www.alabamagulfcoastmusichall.com for their schedule.
For more information on what is going on in our area you can go to www.visitfoley.com Or www.gulfshores.com
The Foley Welcome Center is located on the corner of Hwy 59 and Hwy 98.
The Gulf Shores Welcome Center is at 3459 Gulf Shores Pkwy. Heading south they are located just above the college on the right side of the road.
They both offer information of everything in our area and in what Alabama has to offer.
For information on activities in Fairhope and Dauphne Google "events in Fairhope, AL" or "events in Dauphne, AL" and you will get a calendar of their events.
Only minutes from top-flight health care facilities, Mobile Bay, and the small town charms and urban amenities of Foley, The Grove welcomes you with the tranquility of a quiet gated community embraced by Southern hospitality.
Local Area Map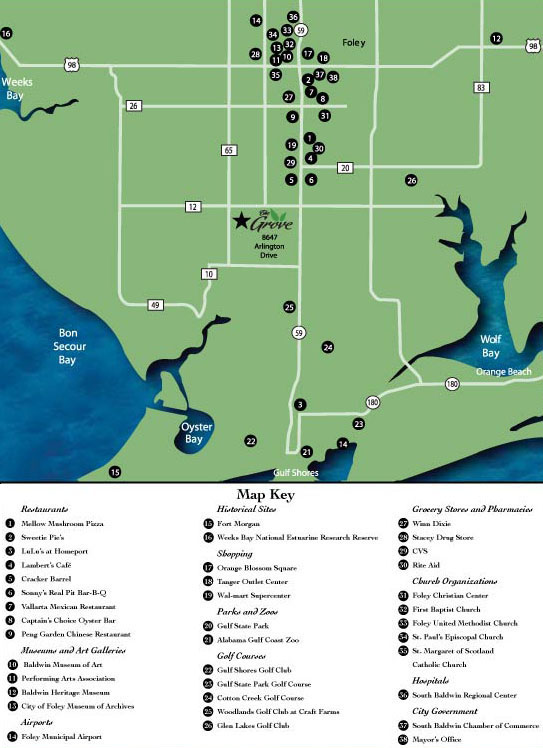 Regional Area Map


Nicknamed "The Golf Coast," this bustling tourist destination
has numerous challenging courses. The boating, fishing
and attractions of the Gulf beach areas known locally
as "Pleasure Island" are second to none.
Unique specialty stores and restaurants offer an array
of regional treats, complemented by more than 115 retail
stores of Tanger Outlet Center.
View The Grove and Foley Area in Google Maps
Details

Category: Uncategorised
Published: Wednesday, 12 December 2018 11:26
Written by Administrator
Hits: 1694
Glenlakes Golf Club
9530 Clubhouse Dr.
Foley, AL 36535
Phone(251) 955-1220
Visit Website